Lone Balsam Farm, A Homestead Climate Solution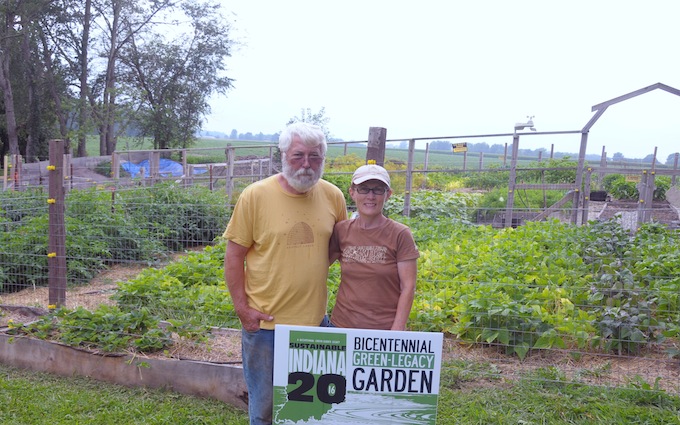 Alongside a beautiful country road in Howard County, Rod and Janet Glover have turned 1.7 acres into a permaculture heaven surrounded by a canopy of grand old-growth trees.  It has taken time and persistent effort but with their "just go ahead and do it" philosophy of life they have achieved a remarkable demonstration of living lightly on the land and in sync with the wisdom of nature. The half acre organic, raised bed garden provides food for the table and for the animals (rabbits, turkeys and chickens) which in turn provide fertilizer for the garden.  Bee hives provide honey for the table and pollination for the plant life on premises. Rain barrels catch and store water for the dry season.  Forty solar panels on the barn's south slope provide almost all the electric needs of the family including a charge for their electric plug-in hybrid automobile. Solar powered electric fences keep deer out of the garden.   A submersible pump, powered by the solar panels, pumps water from the well to wherever it is needed.
Split wood from dead or downed trees is neatly stored and ready for heating the house when the weather turns cold.  Clothes are dried on the backyard clothes line. Seventeen fruit trees (apple, pear, peach and cherry) along with strawberries, raspberries and blueberries provide fresh and canned fruit for a healthy diet.
With a small saw mill, sketchy drawings, and lots of ingenuity the couple have fabricated and installed hardwood floors in the house, cabinets, and an elegant dining room table and chair set.  They built their main barn and smaller barn, and they recently built a new barn to house heritage breeds of chickens and turkeys.
Rod grew up on a small farm, and Janet, who lived nearby, spent much time on that farm, as well as learning homesteading skills from her grandmother.  So, gardening, canning, sewing and baking come naturally.  "It just seems like the right thing to do" Janet said.  "We are following our heart and soul.  We love doing what is right for the land and leaving a safe-food legacy and toxin free environment for our kids and grandchildren.  It's not about being "above" nature but living in harmony "with" nature that makes us happy."
A widowed friend in North Carolina was having a rough time of it so Rod and Janet invited her to come stay with them during her grieving.  She shared seeds and equipment from the organic farm that she and her late husband ran for twelve years, and she shared a wealth of knowledge and experience, as well.  Since Rod and Janet hadn't settled on a name for their farmstead yet, she generously loaned them the name "New Moon II" as a temporary name.  Later, they chose "Lone Balsam Farm," a name chosen in honor of a balsam fir tree, given to them by dear friends many years ago, that now stands tall and beautiful in the pasture at the entrance to their farmstead.
Facebook: Janet Glover